6 Ways to Market Your App While on a Tight Budget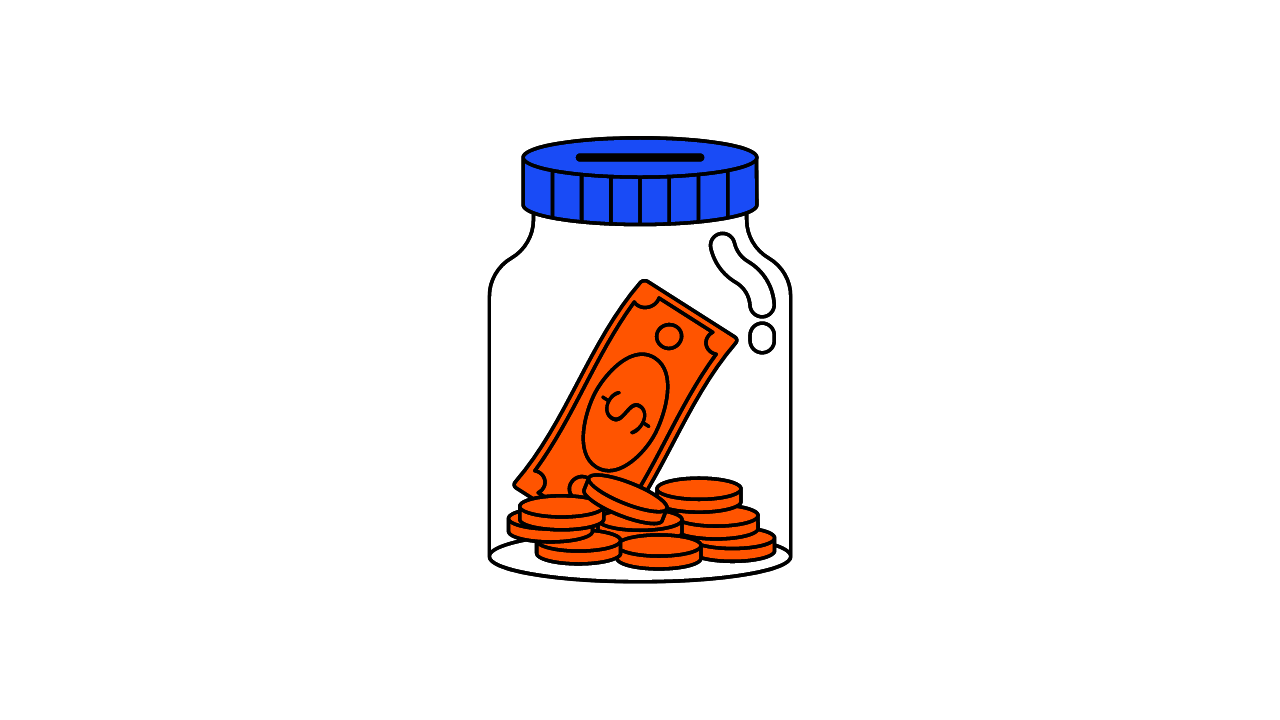 Bruce Peck
Nov 13, 2022 · 5 min read
In college, a couple buddies and I decided to build an app. The initial estimation I was given for development time was 3 weeks... it took us 8 months.
I had quit my job (making $8.50 an hour) to go all in on our world changing app. Then we were faced with a rather daunting question: how in the heck do we get this thing out there with no money?
We spent the next 2 years answering that, and learned quite a bit about marketing an app on a shoe string budget. If you have the resources to go all out on marketing, definitely do that, but if you don't, read on.
#1: Flyer everything
Flyers are highly under estimated as a means for getting app downloads. Paper is a beautiful technology in that it is inexpensive and transfers information instantly to the receiver.
We experimented with a lot of different types of flyers, but the one that worked the best for us had a simple value proposition of the app in plain text, a link to our website and a QR code. Here's an example of a early version: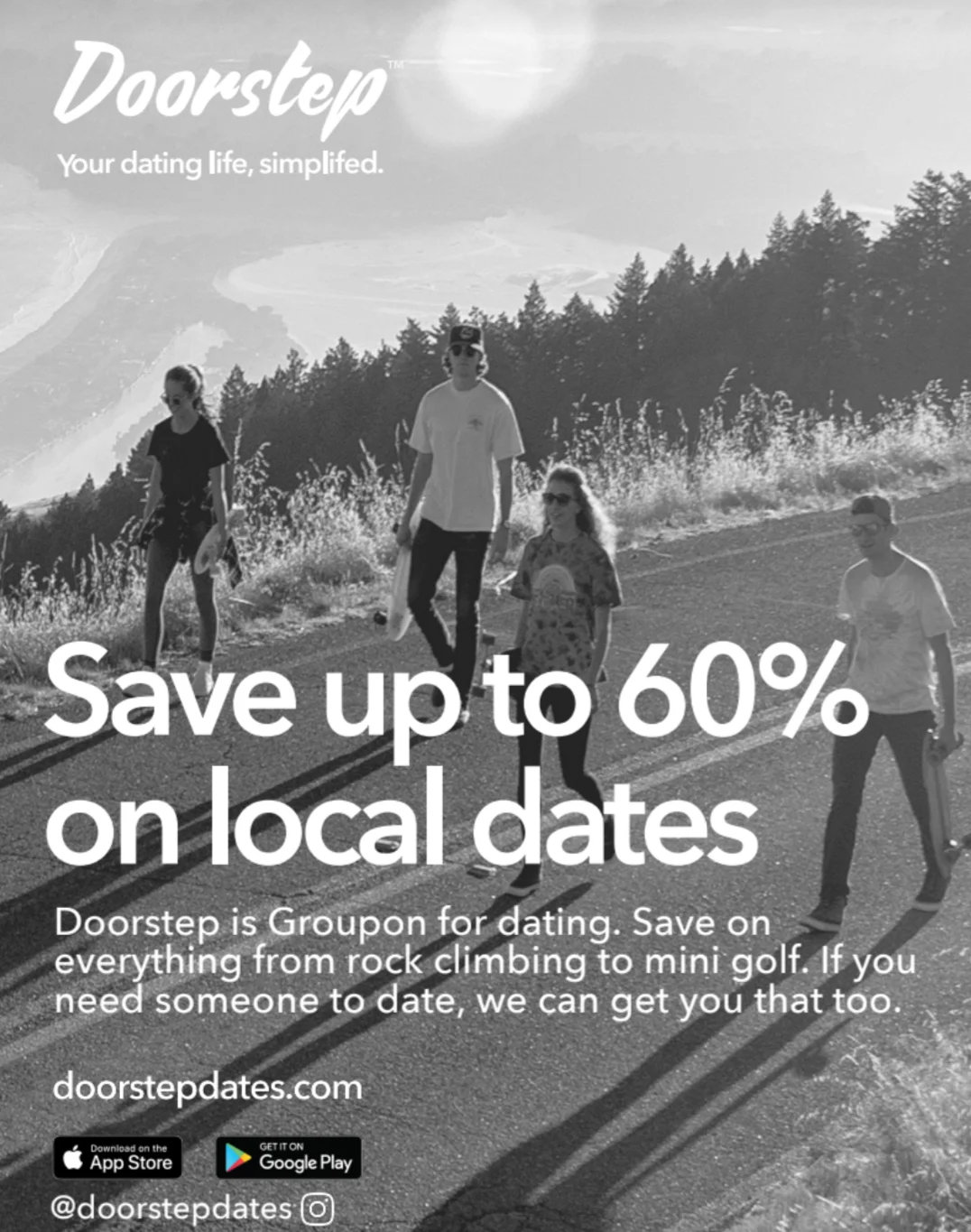 We put flyers on everything. It started off small, you know putting flyers on apartment doors, leaving them in lobbies. But it soon escalated, I went onto a college campus, paid $75 for a booth and they let me hand flyers out in the hall. I got hundreds of downloads in a single day. Not a bad customer acquisition cost if you ask me.
But our finest work of flyering was when we paid $1,000 to put flyers on every single chair at a basketball stadium. It took me 8 hours to tape each one to a chair. But the stadium was literally bathed in our brand.
*One small note though: if you're going to pay to put it up for a basketball game, make sure that the team is in your target demographic… I watched in horror as the much older patrons of this team just sat on our flyers.
#2: Get a booth
You'd be amazed once you start looking how many places you can show up and put up a booth. In my local downtown we paid $10 to put up a booth at a farmers market for a full season and they regularly have 2,000 plus people show up.
Booths do two things. First they help you get downloads, but second they make you seem like a much bigger company than you may be at the beginning. When people think, "oh, I've seen that company before." It goes a long way to making you appear more credible.
A short list of places to set up a booth:
Farmer's markets
Local parties
Races (marathons etc.)
College events
Tech expos
Here is what our booth looked like back in the day: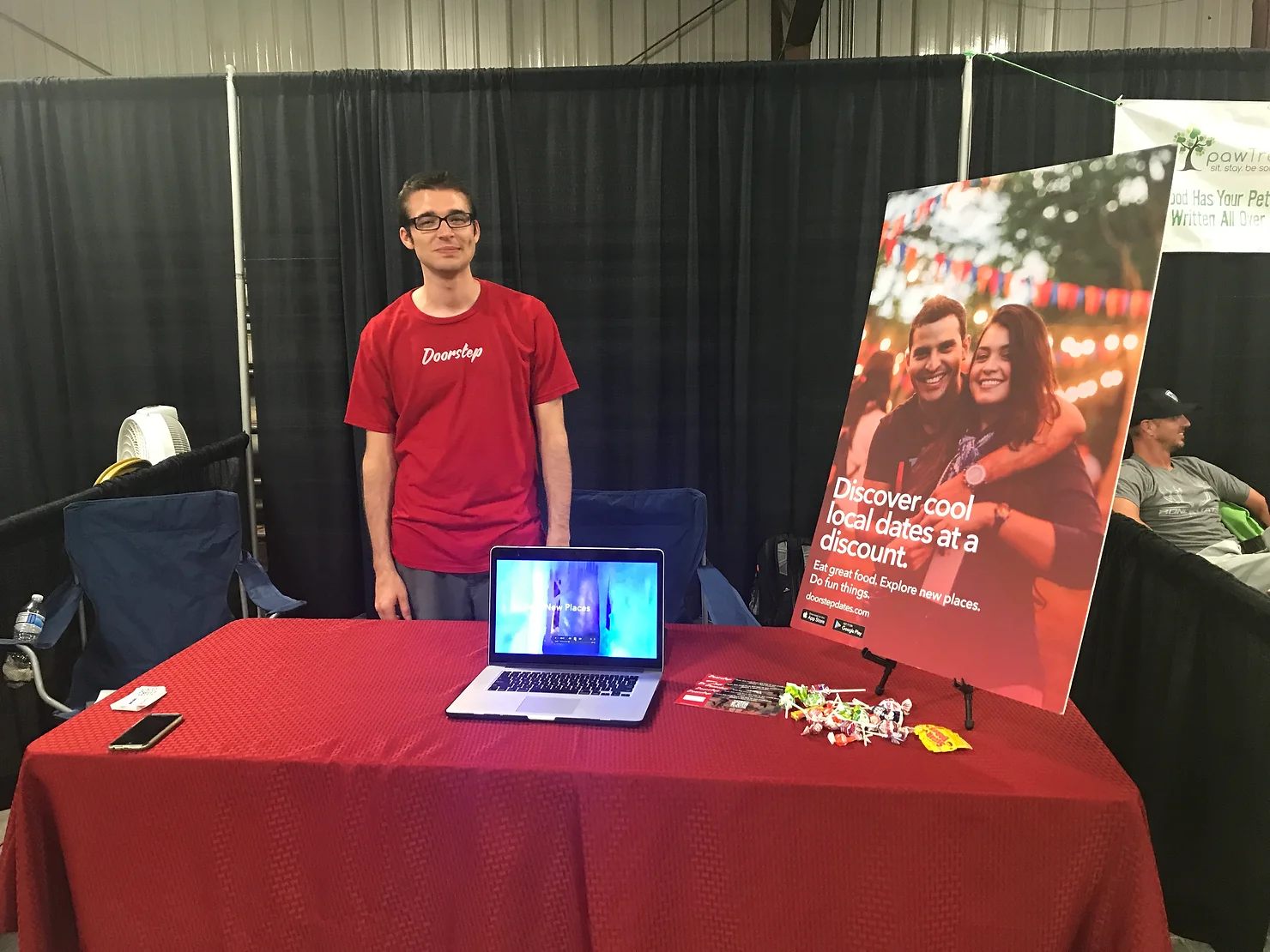 #3: Work with micro-influencers
Influencer marketing can be very expensive, but really only when working with the big dogs. With our app we found micro influencers (people with like 2k - 10k followers) who had a lot of followers in our area and lots of engagement.
We had an app that made it easy to find cool things for date night (you can see it here if curious) so we'd just send them on one of the cheapest dates we had ($5 for two to Coldstone) and they loved it!
In exchange they would post about us on their feed. If you find inexpensive to you, but high value to them experiences like that you can go a long way on a little budget.
#4: Join Online Groups
Facebook is a gold mine of online groups, but the key is to know the right ones to join and the right way to go about promoting your business in their groups.
For instance if you join a group that is all about "promoting your business united" or something dumb like that, good luck getting heard above the spam.
But, if for instance your app was something related to new mothers, and you happened to recently have been one. You can get into groups like "New Mothers of San Antonio" and look for posts that relate to your topic and you can helpfully suggest your app.
If you can find a vertical of groups that are all similar and all relevant to what you do, you can get quite of few downloads this way.
#5: Work With Apartment Complexes
This one depends on your industry of course, and is a bit clever, but one thing we did was talk to a bunch of local apartment complexes and offer to give everyone in their complex a special discount.
The pitch went like this, "Hey we're from an app that makes it easy to find cool things to do for date night for two and we wanted to let your complex have a special discount code just for your residents."
And they ate it up. We'd give them a code like RockyPoint10 and then they would send it out to everyone on their email list pretending like they were the heroes saying something like, "Thanks so much for being tenants here, here's a special date night for you for 70% off."
#6: Win Competitions
There are tons of business competitions out there, and all of them are excellent opportunities out there. Some of which include, meeting new people, gaining exposure for your app, learning new things, and most importantly they can include helping to solve the underlying issue: money.
We never said no to competitions as we were building our user base, and because we kept showing up we ended up winning a decent amount of them. All of this helped us earn the money that we needed to keep going.
Here are a few national competitions to consider. How do you win? That's a much deeper topic than this article, but here's a resource to get you started: 5 Steps To Turn Your App Development Idea Into A Viable Business.
And just for fun, here's the pitch we won the Idaho Entrepreneurship Challenge with:
Conclusion
Money makes everything easier and faster, but if you find yourself in the position where you have a lot more time then money, there are still a lot of things you can do to grow your business.